What kind of love could this be
that sees the faults inside of me…
does not record the ways I've failed
but sends its grace upon my trail?
Do you long to be known and not ashamed? Are there things about you which you fear being seen or known by others? Look at the kindness and gentleness in the King's eyes.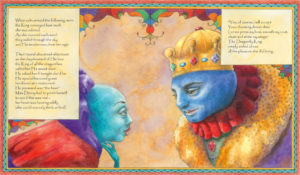 The Dragonfly King saw into the core of Dragonfly Denny and told her he adored her (despite the wavering faith she displayed in the storm – see previous post). What impact do you think the King's display of tender fondness for her may have had on any lingering sense of shame? What do you imagine it would be like for you to receive the same kind of unconditional acceptance?
Words of appreciation and acceptance are powerful sources of motivation. Can you receive and embrace compliments and life-giving expressions of appreciation? If not, what do you do in response when they come your way? Would you consider why? How did the King's words of appreciation and his invitation honor Denny? What did it motivate her to do?
Words of life empower me
to be the best that I can be.
When I've known what honor is
I can give so others live.
Because honor begets honor, name some ways in which we can convey acceptance and honor both as a gift to ourselves and to others.